Return to the Main Menu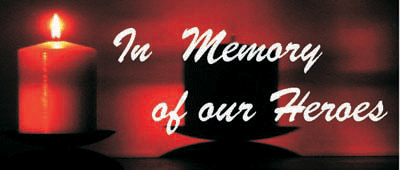 ---
In Memory Memorial Plaque
Vietnam Veterans Memorial Plaza
in Washington, D.C.

Welcome to the area of the AOWAC, where we remember our heroes who have have fallen. If you would like information about how to introduce your story, please send an email to Genevieve Douglass at aowac@aowac.org. We would be glad to share you stories.
---
The Agent Orange Quilt of Tears - http://journals.aol.com/armrdangel/QUILTOFTEARS
Jennie LeFevre, Founder of the Agent Orange Victims & Widows Support Network &
The Agent Orange Quilt of Tears - former website - http://www.homestead.com/quilt_of_tears
For information contact: Shelia & Henry Snyder - email: ArmrdAngel@aol.com
P.O. Box 90, Davenport, Florida 33836

Application for the Vietnam Veterans Memorial Fund Ceremony - www.vvmf.org
Vietnam Veterans Memorial Fund
In Memory Application for Ceremony at the DC Wall
1023 15th Street, NW, 2nd Floor, Washington DC 20005
(202) 393-0090 fax: (202) 393-0029

The Order of the Silver Rose Award Application - www.silverrose.org
Gary Chenett, National Director of The Order of The Silver Rose
9157 Ann Maria, Grand Blanc, Michigan 48439
(810) 714-2748 / E-Mail: fuzzyfrog@2fords.net

In-Memory Plaque Project - http://www.vietnamproject.ttu.edu/inmemory/vietwarmem/plaque.htm
Vietnam Veterans In-Memory Memorial Plaque - American Battle Monuments Commission
ABMC website - www.abmc.gov

The Virtual Wall - www.VirtualWall.org
Vietnam Women's Memorial Foundation - www.vietnamwomensmemorial.org
1735 Connecticut Ave. NW, 3rd Fl, Washington, DC 20009
1-866-822-8963 / Email: vwmfdc@aol.com